In this field of work, simulations for different materials are conducted, from the size scale of a few micrometers to component parts. Therefore, in most projects finite elements simulations are used. Also, analytic computations for continuum mechanics as well as discrete elements methods and Monte-Carlo Simulations are utilised.
Overview over the projects in micro- and macrostrukture mechanics
Contact information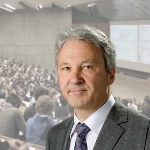 Siegfried Schmauder
Prof. Dr. rer. nat. Dr. h. c.
Department Head of Multi-Scale Simulation